Soldier, Several Others Killed As Gunmen Attack Niger Communities
Posted by Abdullahi Egba | 3 months ago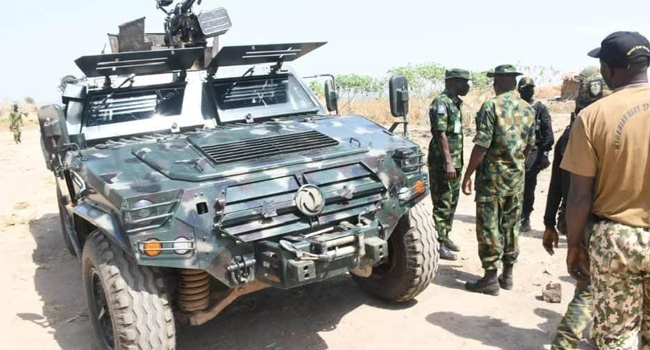 troops during an operation in the North-West.
The assailants numbering over 100 were said to have invaded the two neighboring communities of Beni in Munya LG and Adunu in Paikoro LG in two different groups.
A soldier has been killed following an attack by gunmen on communities in Paikoro and Munya Local Government Areas (LGAs) of Niger State.
The gunmen who launched a fresh onslaught also killed a village head and a medical practitioner, and abducted well over 60 people, including women and children.
Numbering about 100, the assailants in two separate groups were said to have invaded the two neighbouring communities of Beni in Munya LGA and Adunu in Paikoro LGA in broad daylight on Monday and raided from house to house, dispossessing the people of their money, other valuables and food stuff.
At Beni, the group killed the Village Head, Alhaji Salihu Ahmed when they sighted him on his way back from the farm and abducted about 20 people, mostly women and children.
Also at Adunu community, a medical practitioner, Joshua Bitrus was killed by the group that invaded the community when he attempted to escape into the bush on sighting the gunmen, while over 40 people, including women, children, and a retired police officer, Moses Tanko aka Arada System, were taken away.
A source close to the communities told Channels Television that those who could afford between N10,000 to N20,000 cash, whether in old or new notes, were set free by the gunmen.
After raiding the two communities, on their way to their hideout in Kaduna State, the gunmen were ambushed by the Joint Security Task Force at Sarkin Pawa and the resultant gun battle led to the killing of a member of the task force and a local vigilante, while several others sustained various degree of injury and are currently being treated at a government health facility in Minna, the state capital.
Two patrol vehicles belonging to the Joint Security Task Force were also vandalised by the gunmen with the windscreens and tyres shattered with bullets.
Sources told Channels Television on Friday that an unspecified number of the gunmen who were moving in about 35 motorcycles, and in three groups, were killed during the over one hour of fierce gunbattle with the security agents.
The Niger State Police Command has yet to comment on the latest attacks.
However, the state Commissioner for Internal Security and Humanitarian Affairs, Emmanuel Umar, said he was aware of the incident and had yet to get the details of the attacks, while promising to issue a statement to that effect.
Source: Channels television
Disclaimer
Comments expressed here do not reflect the opinions of NaYournews or any employee thereof.
You may also like...